Skip to Content
A Closer Look at the Smithsonian Institution in Washington D.C.
With nineteen museums, the National Zoo, and nine research facilities, the Smithsonian Institution is the world's largest museum and research complex. It originated when James Smithson, a 19th-century British scientist, gave his fortune to America upon his death. He stated in his will that if his nephew died without heirs, his estate will go "to the United States of America, to found at Washington, under the name of the Smithsonian Institution, an establishment for the increase and diffusion of knowledge among men." Inaugurated in 1846, it still serves as a beacon of universal education. It is a must-see for anyone visiting the Washington, D.C., area.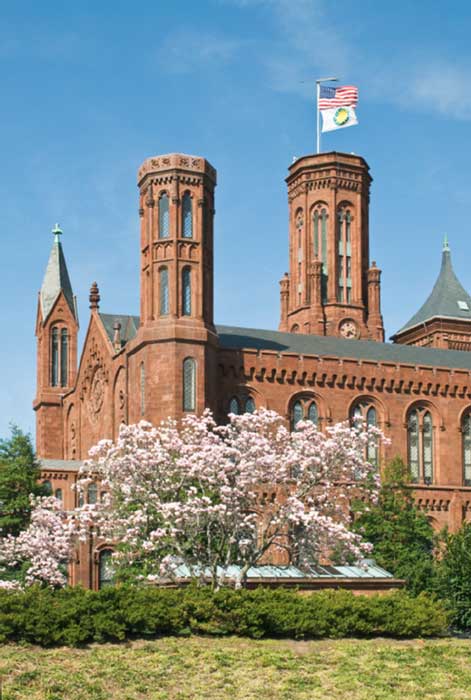 Exploring the National Zoo
Open to the public free of charge 364 days a year, the National Zoo has up to two million visitors from around the world every year. It is home to over 300 different types of species from all across the globe. One of the most popular exhibits features the renowned Giant Pandas. Beyond housing endangered species and other animals, the National Zoo also has activities that promote conservation education.
Exploring Different Arts & Cultures
The Smithsonian Institution is home to various cultural centers that celebrate the diversity of America and the rest of the world. You can educate yourself at the Asian Pacific American Center, the Latino Center, and more. You can also take a stroll through the National Portrait Gallery, honoring those who have helped shaped America's culture.
Exploring Science & Technology
The Smithsonian Institution is also a fantastic place to discover interesting aspects of science and technology. You can learn about historic achievements like the first airplane, or catch a glimpse into what lies ahead by attending the Future Is Here Festival.
The last thing you want to worry about on your trip is getting around. Haymarket Transportation is here to help you plan your visit to Washington, D.C., and the Smithsonian Institution. With charter buses, motor coaches, and a variety of other services, we cover all of your transportation needs. Call us at 301-778-2007 for more information, or stop by our locations in Virginia and Maryland.