Skip to Content
Sites You Can Expect to See on Our Presidential Tour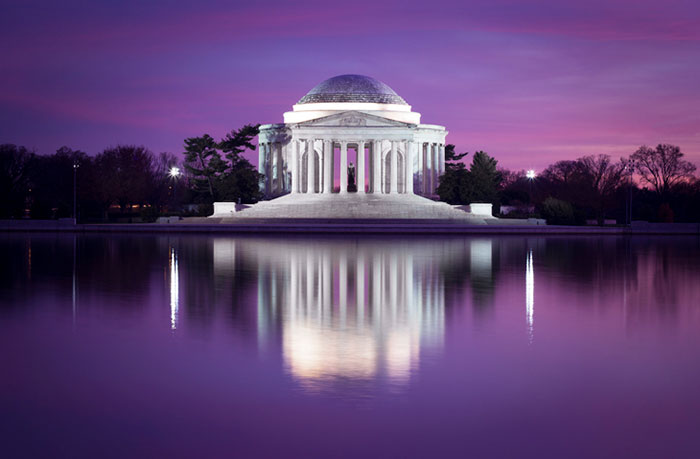 Every year, millions of people visit our nation's capital. Washington, D.C. is chock-full of so many exciting things to see and do that it's impossible to fit it all into one trip. You can make the best use of your time in the city by joining a guided tour. Haymarket Transportation's Presidential Tour is an all-inclusive look at some of the most significant sites in the area, including the Jefferson Memorial, Iwo Jima Memorial, and Ford's Theatre.
Jefferson Memorial
America's third President and the author of the Declaration of Independence is honored with a memorial on the National Mall. It was designed in 1925 with the intention of mimicking the Neoclassical architecture of the Pantheon in Rome. Before the memorial stretches the Tidal Basin, and nearby, you'll see Washington D.C.'s famous cherry blossom trees. Within the structure, the 19-foot bronze statue of Jefferson stands proud, gazing toward the White House.
Iwo Jima Memorial
The Iwo Jima Memorial is formally called the U.S. Marine Corps War Memorial. Although the event it depicts is the flag-raising at Iwo Jima during World War II, the memorial was built to honor all of the men who gave their lives in the Marine Corps since its inception. The flag-raising occurred on top of Mount Suribachi, which was captured after a bloody battle.
Ford's Theatre
Another historic site you'll see on the Presidential Tour is Ford's Theatre. It's the infamous location of President Lincoln's assassination by John Wilkes Booth. Lincoln had been attending a performance of Our American Cousin on April 14, 1865. As an actor, Booth knew the play well. He timed his gunshot to coincide with a moment when he knew the audience would be laughing loudly. Today, Ford's Theatre includes a museum. You can also still see performances at the theater.
The entertaining and personable guides at Haymarket Transportation are committed to giving each of our guests the best possible experience. You can sign up for our Presidential Tour in Washington, D.C. by calling 301-778-2007. Our transportation company also offers customizable private tours and school field trips.