Skip to Content
Springtime Events in Washington DC
There's no shortage of things to see and do in DC this spring, and a charter bus tour can help you see everything with everyone you care about. From film festivals and St. Patrick's Day celebrations to the return of America's favorite pastime, the question isn't what to do in DC this spring, but how to do it all. To help you plan our your charter bus tour around DC this spring, here are some of the must-do events happening in the nation's capital in the coming months.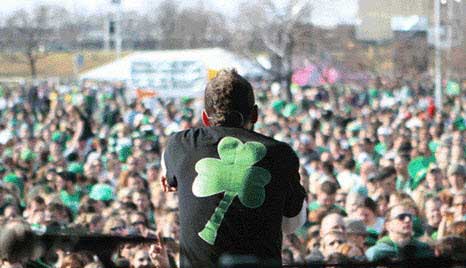 Film Festivals
There's no shortage of things to see in DC this spring, especially if you look up on the big screen. From March 18-30, the Environmental Film Festival takes over DC's movie theaters, embassies, libraries, and museums. This festival not only screens films about the environment but also films shot with environmentally friendly and responsible methods. Then, in April, Filmfest DC will sweep cinephiles off their feet with its array of short and feature-length films from around the world.
ShamrockFest
You don't have to be Irish to get a kick out of St. Patrick's Day. In fact, most people who attend ShamrockFest each year aren't! Held at the RFK Stadium grounds, ShamrockFest features beer trucks, dozens of food vendors, an interactive "Irish Village," and more than 40 DJs and rock groups performing across nine different stages.
Jazz Festival
If party and rock anthems aren't your thing, mark your calendars and reserve your charter bus for the DC Jazz Festival in late June. With more than 100 performances sweeping through dozens of historic jazz venues across the District, you can get your jazz fix in the city that helped to define the jazz sound.
Carpooling can be hard with a large group, and taking a taxi can be expensive, so let Haymarket Transportation help get you and your loved ones around DC this spring. And if you don't live in the DC area, you can rent a charter bus from Virginia or Maryland. To learn more about our charter bus rentals, visit our website or call us today at 301-778-2007.