Skip to Content
The Benefits of Hiring a Charter Bus
If your company is planning a retreat for your employees, or you have a class of students, you're going to want a charter bus. This style of transportation is essential when you're handling a large group, especially when you're somewhere unfamiliar. Even if you're simply traveling to the city zoo or a secluded wedding location, taking advantage of a charter bus keeps the entire group in one convenient location. Here are a few more reasons to consider hiring a charter bus.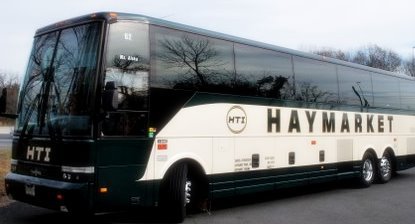 Hassle-Free Transportation
When you have a large group of people, it can be very difficult trying to coordinate everyone's schedules and where everyone is driving to or from. Add trying to make sure people have directions, especially if they're to an unfamiliar city or location, then everyone is likely to become frustrated. With a charter bus, the entire group gathers in one spot and travels to their destination, worry-free. There is no hassle, frustration, or getting lost with a charter bus.
Friendly Drivers and Tour Guides
Entertaining a group sitting on a bus, possibly for hours, can be difficult. If you have the best drivers and tour guides, though, you'll never have to worry about bored passengers. Drivers and tour guides are always finding new ways to make things exciting and fresh, not just for their passengers but for themselves, too.
Supreme Comfort
Traveling can create a big strain on the body and the mind. With a comfortable charter bus, though, everyone can recline and relax all while learning about the fun facts of their destination. Many amenities can be requested, such as footrests, improved viewing, DVD and CD players, and many more. Your group will love their charter bus so much; they'll never want to go home!
At Haymarket Transportation, we provide private tours, customized tours, and school field trips in Washington, D.C., Maryland, and Virginia. We're dedicated to giving our clients the best experience in sightseeing and transportation. Call us at 301-778-2007 to learn more.