Skip to Content
Unique Wedding Transportation Ideas
Wedding transportation can take many forms. Your wedding day is one of the most important days of your life, and it is crucial to select dependable wedding transportation. A wedding transportation service should ensure that you and your guests feel comfortable throughout the course of your event. Keep reading to learn more about wedding transportation ideas, including a charter bus, stylish limousine, and a large SUV.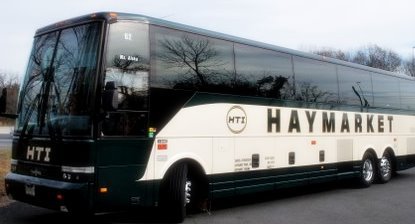 Charter Bus
A charter bus offers one of the most efficient ways to move large wedding parties from one location to the next. In addition to convenient transportation, a charter bus can even offer Washington D.C. tours while it transports guests from the wedding to the reception. One of the best things about a charter bus is that it allows your whole wedding party to spend the day together. If you have a large group of friends and a close-knit family, a charter bus may be your best bet for wedding transportation.
Stylish Limousine
Limos have long been favorites of wedding planners. These sleek and stylish vehicles combine formality and function, allowing the entire bridal party and family to feel like VIPs. Large limos can hold up to 10 passengers, while smaller sedans like town cars can seat up to four. Either way, you and your guests will have unparalleled attention from a personal chauffeur, who will guide you through the city in complete luxury.
Large SUV
For edgy, sporty couples with larger wedding parties, an SUV is the ideal form of wedding transportation. Like limos, SUVs can seat up to eight guests comfortably. SUVs also come equipped with private drivers who offer a personalized touch. If you put comfort and safety first, consider a fleet of SUVs for your wedding transportation needs.
For even more exciting wedding transportation near Washington, D.C., contact Haymarket Transportation. Our experienced travel specialists can help you plan every detail of your wedding. We offer a diverse fleet that includes wedding charter bus services, sedans, and limos with private chauffeurs. To get started creating your memorable day, contact us at 301-778-2007.