Skip to Content
Washington, DC – Diner's Guide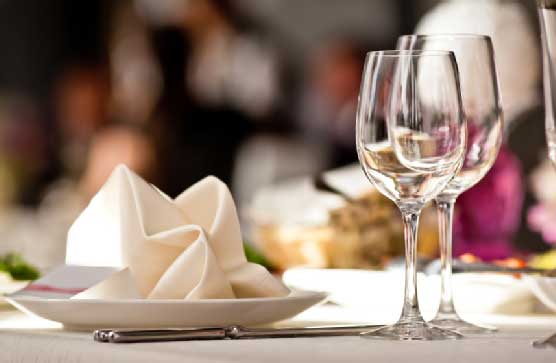 The nation's capital is home to a plethora of diverse dining options. In Washington, DC, you'll find everything from traditional meals to unique menus featuring a fusion of past and present cultural traditions. You can make the most of your chartered tour of DC with frequent stops for snacks and meals to experience all that the DC dining scene has to offer.
Old Angler's Inn
You can find historic DC dining at Old Angler's Inn, where the restaurant's traditional setting is as attractive as its newly-refreshed menu. Enjoy cocktails at the restaurant's marble-topped bar, which once sat in the Watergate hotel. On the menu, you'll find dishes including seafood, beef, and pasta that perfectly compliment the inn's beauty and atmosphere.
Ben's Chili Bowl
You don't have to sacrifice taste or atmosphere when looking for affordable dining options in DC. Ben's Chili Bowl is open for breakfast, lunch, and dinner, featuring a history dating back to 1958. Experience Ben's specialties such as the half-smoke or chili con carne, or choose from healthy menu options including vegetarian chili and turkey burgers and dogs.
Taqueria Nacional
Located on the Hill, Taqueria Nacionale's carryout menu features fresh Mexican food and American favorites including jambalaya, hamburgers, and chicken pot pie. Check out the ever-changing daily specials and explore the exciting beverage menu, which includes hot chocolate for cold and windy days and mango-lime punch for a refreshing midday summer treat.
Blue Duck Tavern
If you're looking to sample food created with produce from local DC farmers, visit Foggy Bottom's Blue Duck Tavern. The menu features options including Pennsylvania sweetbreads, Maine scallops, and fresh-baked apple pies that give you an authentic and tasty tour of traditional East coast flavors.
Explore every taste that DC has to offer with Haymarket Transportation's unique dine-around options! We provide a variety of Washington, DC, and Virginia touring options for your family, business, team, or school in comfortable buses, shuttles, sedans, and limos. Visit us online to learn more about our customizable packages, or call 301-778-2007 to contact a representative today!