Skip to Content
What to Expect When You Visit the U.S. Capitol Building
Visiting the U.S. Capitol is a great way to get a closer look at American democracy in action and to connect with your elected leaders. Save yourself the hassle of navigating the gridlocked streets around the Capitol and arrive by bus on a D.C. guided tour on which you can get insight from a knowledgeable host as you take in the sites around town. If you wish to visit the Capitol building, here is a look at what you can expect.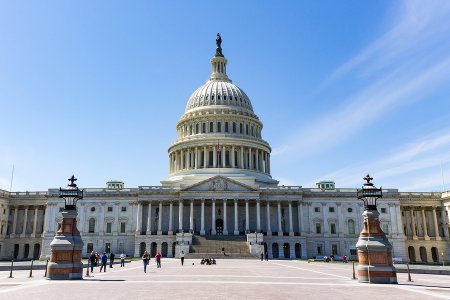 Reservations Are Required.
Because of high visitor volumes, reservations are required if you wish to tour the Capitol. You can book online on the U.S. Capitol website or via your congressperson or senator. You can choose to book a guide-led tour or book a tour that is led by a congressional staff member if your representatives offer this service. There is no fee to enter the Capitol building or to take a tour. You can attend a congressional or senate session while the bodies are active, but these sessions are not part of the tour.
Your Bag Will Be Searched.
Some items are prohibited inside the Capitol building, and your bag will be searched before entering. You may not bring food, drinks, aerosol containers, non-aerosol spray, or weapons of any kind, including guns, knives, box cutters, and pepper spray. Pointed objects, such as knitting needles, are also prohibited, as are bags larger than 18" W x 14" H x 8.5" D. Cameras, battery-operated devices, strollers, and video recorders are not allowed in the House and Senate galleries.
You Can Visit Multiple Parts of the Building.
In the Capitol, you can visit the Visitor Center, Exhibition Hall, two gift shops, and the Capitol Café, a restaurant with 530 seats. The tour of the building takes about 90 minutes, and you can explore the other amenities at your leisure.
Haymarket Transportation Inc. makes it easy to explore the city with our Washington D.C. tours. Call us today at 301-778-2007 to make reservations for a Washington D.C. guided tour or to make transportation arrangements for a wedding, corporate event, or airport pickup.