Skip to Content
Which of Haymarket's Fleet Vehicles Suits Your Needs?
Haymarket Transportation has an extensive fleet of charter buses, vans, sedans, and limousines. These vehicles can carry group sizes of over 50 people to your customized tour, corporate event, or wedding. Read on for a better look at each fleet vehicle to determine which would be best for your transportation needs.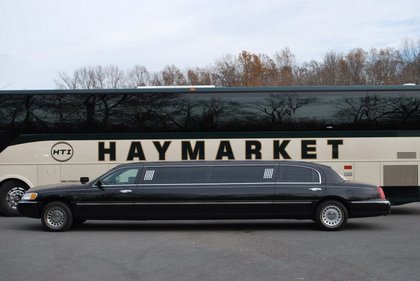 Buses
If you are planning a customized tour for the out-of-town family or employees, then you will want one of the large buses at your disposal. These buses can hold up to 36 passengers and 56 passengers, depending on the size of your group. Each bus comes with a comfortable and beautiful interior, televisions, and luggage compartments. The largest bus also has restrooms available for the winery tours and long-distance transportation.
Vans
Vans can be used for special events and wedding transportation. They can also be used to transport 10-person groups from the airport, to hotels, and to other nearby destinations. If you prefer larger transportation options for a special event or wedding, then you may prefer the 34-passenger bus.
SUVs
You or your special guests can ride around in style in a late-model SUV with leather interior. SUVs can be used for a small private tour, airport transportation, or to transport a bride and groom to and from their wedding site.
Sedans
If you prefer a smaller vehicle—yet just as luxurious—to an SUV, then you may choose a sedan. Haymarket sedans feature leather interiors, CD players, and uniformed chauffeurs at your disposal. You and your guests can utilize sedans for several reasons, such as airport pickups and wedding transportation.
Limousines
Limousines offer an unparalleled look of sophistication. You can reserve a limousine for all kinds of party transportation, including birthday parties or bachelorette parties. Stretch limousines can hold between 8 and 20 passengers.
Call Haymarket Transportation at 301-778-2007 to learn more about our transportation fleet serving Washington, D.C., Maryland, and Virginia. Tell us your group size and event style, and we will help you pick the perfect vehicle for a great time.