Skip to Content
A Crash Course in Wine Tour Etiquette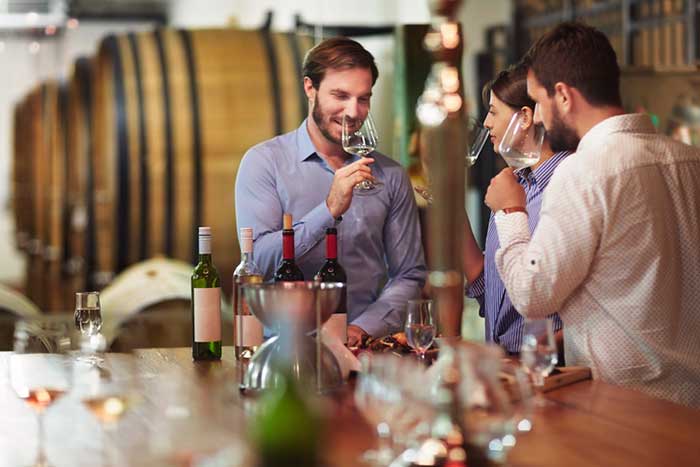 A winery tour is a great way to learn about new wines and enjoy a fun, unique experience with friends. With a charter bus or guided tour, you can explore wineries without any concerns about finding safe transportation to and from the tour. Once you're on the winery tour, there are a few etiquette tips you should know that will help you feel comfortable and enjoy the experience fully, no matter how experienced you are with wine. Here is what you need to know.
Don't Go on an Empty Stomach
On a wine tour, of course, you will be tasting wine, and the amount you consume can add up quickly. Generally, if you are offered food on the tour, it will be small bites, like cheese and crackers, and not a full meal. To avoid over-consuming on the tour, make sure you have a full stomach for the tour. Even if you plan on spitting the wines you taste instead of drinking them, you can quickly consume more alcohol than expected, and having a full stomach will help you keep your wits.
Take Notes During Your Tour
A winery tour is a great time to increase your knowledge of wine and test some new varieties. Chances are that you will taste so many different kinds of wine that you'll quickly forget which ones you loved and which were not for you. Take notes as you taste, rating the bottles and writing down information about flavors. You will likely see a pattern develop that will help you better understand your wine preferences.
Limit Your Perfume and Aftershave
Strong odors can interfere with the way wine tastes, since smelling the wine is part of tasting it. Do everyone on your winery tour a favor and limit your use of perfume or aftershave on the day of your visit.
Haymarket Transportation offers winery tours within easy reach of Washington, D.C., with convenient transportation designed to accommodate groups, such as charter buses. Get answers to your questions about planning a winery tour or our other transportation options by calling 301-778-2007.