Skip to Content
A Visitor's Guide to Proper Etiquette at the Vietnam Veterans Memorial
Visitors taking a D.C. guided tour will likely make a stop at the Vietnam Veterans Memorial. The Memorial, also known as The Wall That Heals, is a beautiful location that allows visitors to reflect on the sacrifice made by so many during the Vietnam War. Please continue reading to learn the proper etiquette when visiting this memorial.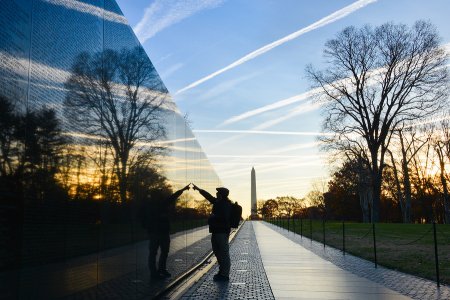 Respect the Monument
The Wall That Heals stands as a testament and reminder to the people who lost their lives during the Vietnam War. The Wall must be respected at all times. This means that visitors should not climb or sit on any part of the memorial. Visitors can touch the memorial, but they should always be mindful of their actions. It is also disrespectful to eat at the memorial, litter, or create any sort of scene. Visitors should speak quietly and reflect on what the memorial stands for.
Respect the Visitors
It is also crucial that visitors respect those around them. Millions of people visit the memorial every year, and many had family members and friends who died during the war and are now memorialized on The Wall. Remain respectful and nonjudgmental to other visitors while they show their own respect at the memorial. If there are any problems with other visitors, then speak with a National Park Service agent about the disruption.
Respect the Environment
Never litter at or around the memorial. This is extremely disrespectful and could result in a legal fine and expulsion from the area. It is accepted to leave a small token or gift of remembrance at the memorial. Every night, these items are cataloged and stored away for a future project. Ensure that the item is respectful and safe for the environment and park agents to handle.
Haymarket Transportation offers D.C. guided tours to show visitors the many wonderful memorials and sites in Washington, D.C. Our guided bus tours and educational tour services accommodate adult and student groups. Please call us at 301-778-2007 to book a D.C. guided tour near Washington, D.C., Virginia, and Maryland.