Skip to Content
Quick Tips for a Successful Corporate Golf Outing
There are many ways to ensure your next corporate get-together is a success, such as researching the right environments and reserving transportation and sightseeing tours ahead of time. If you are planning a golf outing, then read on for some helpful tips to make this day a huge success.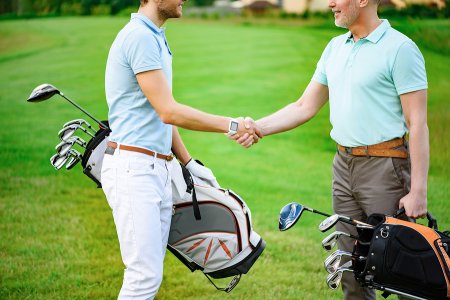 Tip #1: Understand the Course Skill Level
Everyone in your corporate group may not have the same golf skills or amount of experience. The golf course you choose should accommodate a range of skill levels. This will help ensure that everyone has an enjoyable time throughout the outing. Research the skill level of nearby golf courses and poll your guests to determine everyone's skill level. This will help ensure that you reserve the right golf course.
Tip #2: Appoint a Managing Team
A large corporate outing requires organization and management from conception to the big day. Your organizing team has arranged every detail from the budget to the invitations to the itinerary. However, you still need a managing team to ensure the golf outing goes as planned. This person or team will be responsible for getting every golfer to their designated tee time and place. The manager will also ensure that transportation, refreshments, and on-site staffing is on time and ready throughout the day. This team is crucial to making the entire day a success.
Tip #3: Offer Plenty of Refreshments
Another element of a successful corporate outing are the refreshments. Most likely, the golf club can provide catering, alcohol, and other refreshments throughout the day for an extra fee. If the club does not offer this service, then inquire about bringing in catering, snacks, and refreshments. It is important to keep your employees and corporate partners hydrated, energetic, and enjoying themselves.
Choose Haymarket Transportation to provide sightseeing tours, employee shuttles, and event coordination near Washington, D.C., Virginia, and Maryland. We can help make your next corporate golf outing a great success. Please call us at 301-778-2007 to learn more about our services.