Skip to Content
Highlights of Maryland's National Road
The mid-Atlantic region of the United States is a beautiful stretch of country that's full of history and fascinating landmarks. Though the area is far from sparsely populated, there are still testaments to a time gone by all over Maryland. The Maryland National Road is a National Scenic Byway that covers more than 700 miles from Baltimore through Maryland, West Virginia, Pennsylvania, Ohio, Indiana, and Illinois to East St. Louis, Missouri. It's a part of the country that should be seen from the comfort of a charter bus. Keep reading to learn more about Maryland's National Road.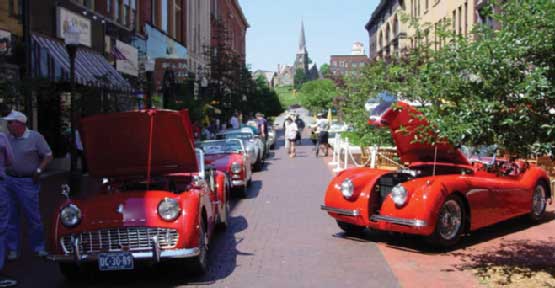 The Road's Origins
The U.S. Congress approved the establishment of a road from Cumberland, Maryland, to the Ohio River in 1806. It was an important part of America's westward expansion and was sometimes referred to as the National Turnpike or Cumberland Road. The initial road recommended for the National Road was rejected because it was too steep in parts. Soon, the new road gave the Maryland General Assembly the idea to create a turnpike that connected Baltimore and Cumberland. It was paid for by local banks and was known as the Baltimore National Pike.
Main Street
As towns grew along the National Road, developers largely used the Main Street model to create a linear town with the main street and a few streets running parallel to it. There are five official Main Streets on the road today, located in Mt. Airy, Frederick, Middletown, Cumberland, and Frostburg. Ellicott City and Baltimore's Inner Harbor area today recognized as essential parts of the National Road's communities.
On the Road
There are many scenic and historic places to stop along the National Road, with museums, theaters, shops, and more to be enjoyed on the route. Whether you and your group are interested in the history of the various communities or the natural beauty of the area, you'll be amazed at what the National Road has to offer you.
Travel the National Road in style by chartering a bus with Haymarket Transportation, the Maryland leader for motor coach rentals. Call us at 301-778-2007 to discuss your travel plans, and we'll take you exploring through one of the country's most interesting areas.