Skip to Content
Visiting Washington National Cathedral
Washington National Cathedral is the sixth-largest cathedral in the world. The Gothic-style structure is a Cathedral of the Episcopal Diocese of Washington, but it also functions as a spiritual center for the nation and serves many faith traditions. A large number of national events are held at the Cathedral each year. A D.C. guided tour is an excellent way to see the Cathedral and learn more about its history.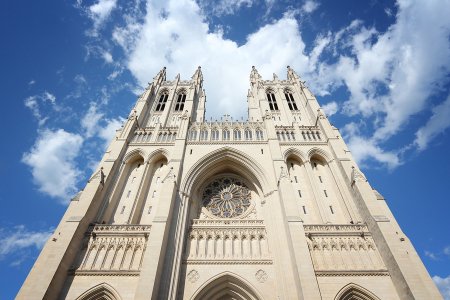 Over the years, the Cathedral has been home to many historical events. From the funeral for President Woodrow Wilson to a prayer vigil during the Iranian hostage crisis, the Cathedral has often been in the national spotlight. Visitors to the Cathedral can opt for a guided tour, come to experience a musical program, visit the church for a mass, or simply tour the building and grounds.
Washington National Cathedral is one of the many sites in Washington you can enjoy on a D.C. guided tour from Haymarket Transportation. Contact us today at 301-778-2007 to learn about building a customized tour in Washington, D.C. or our other guided bus tours across the surrounding areas.