Skip to Content
Must-See Exhibits at the National Aquarium in Baltimore
Since 1981, the National Aquarium in Baltimore, Maryland has been at the forefront of aquatic conservation and education. It's been ranked as one of the two best aquariums in America, and its award-winning exhibits are must-see attractions for visitors to the area. The Aquarium does not operate its own parking lots, so consider arranging professional transportation. If you're planning a school field trip or a family day trip, check out the following attractions at the National Aquarium.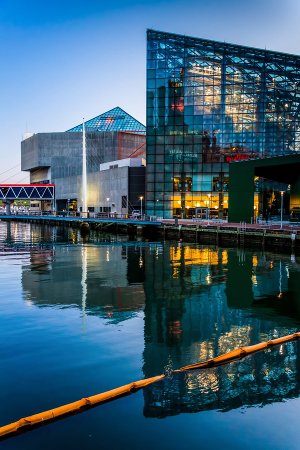 Amazon River Forest
The Amazon is home to a staggering diversity of life. One-third of all animal species in the world can be found at home in the Amazon. This exotic part of the world looks drastically different in the wet season versus the dry season, and at the National Aquarium, you can see a sampling of both. See one of the world's largest freshwater turtles, emerald tree boas, and giant waxy tree frogs.
Shark Alley
This exhibit is truly a one-of-a-kind experience. Visitors are enclosed in the center of a ring-shaped, 225,000-gallon tank. Circling around the tank are nurses, tiger, and sandbar sharks, along with stingrays and sawfish. If you're a tourist in Maryland, save on hotel costs for a night and schedule a sleepover with the sharks.
Dolphin Discovery
A colony of Atlantic bottlenose dolphins makes themselves at home in the National Aquarium's largest exhibit. Visitors often find it hard to drag themselves away from this area. Watch the dolphins play and interact with each other, talk to the marine mammal experts to learn about their care, and watch the experts teach the colony new tricks.
Surviving Adaptation
This is one of the most unique exhibits at the National Aquarium. It features exotic species that have evolved in amazing ways to thrive in their environments. You'll see black grouper—all of which are naturally born female—and electric eels, which can produce an electrical discharge of 600 volts.
Let Haymarket Transportation help you get the most out of your day trip to Maryland, Virginia, or Washington, D.C. A guided bus tour with our luxury fleet is the perfect way to enjoy your trip. Call 301-778-2007 to arrange professional transportation.