Skip to Content
Top Sites to See in Annapolis, MD
Annapolis, Maryland, is a location that is rich in history and things to do. If you'll soon be boarding a charter bus to pay a visit to the beautiful city of Annapolis, then continue reading to learn about some of the top sites to see while in town.
Outdoor Sites
Spend some time enjoying the natural beauty of the Annapolis area by enjoying a relaxing day at one of the local parks or gardens. At the William Paca House, for example, you can get a taste of what it would have felt like to stroll through a pre-Revolutionary War garden. Or, consider soaking up the sensation of being seaside by heading to Ego Alley and watching boats of all kinds as they dock in the harbor.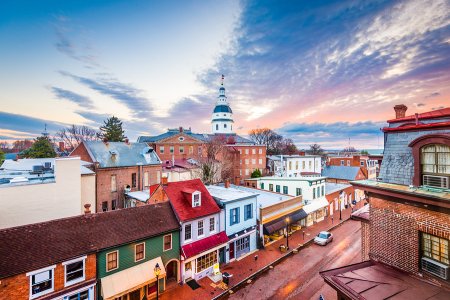 Historical Landmarks
Maryland's capital city does not fail to deliver when it comes to history and culture. While visiting Annapolis, be sure to see some of its most notable historical landmarks such as Billy the Goat, a bronze statue of the Naval Academy's mascot, or the crypt of John Paul Jones, an American Revolutionary War hero. While in Annapolis, you should also consider seeing the Liberty Bell replica, the U.S. Naval Academy Museum, Fort Smallwood Park, and the Maryland State House.
Annual Festivals
Depending on when you visit the city, there is a good chance that one festival or another might be going on while you're in the area. For example, in April, you can try crab cakes and other seafood delights at the Annapolis Rockfish Tournament or enjoys art, music, and food from local vendors at the Maryland Avenue Spring Fling Festival. In December, Annapolis is truly a sight to behold as the streets of downtown sparkle with seasonal décor that is sure to get you into the holiday spirit. This time of year, consider checking out the Annual Chocolate Binge Festival or the Eastport Yacht Club Lights Parade.
Learn more about Annapolis by booking a Maryland guided tour with Haymarket Transportation Inc. We can ensure that you safely reach all of the sites on your must-see list. For information about our tour and transportation services, please call 301-778-2007.